Hemlock Hideaway Campground, (click on name to access website) Box 189 B1, James Creek, PA 16657 Phone: (814) 658-3663 Pets allowed!
Email: hemlockhidecamp@earthlink.net
Little Valley Log Cabins (click on name to access website) Jerry and Linda Hoffsmith 900 Snyder Rd. Annville, PA 17003 (717) 838-1688
Pioneer Family Campground - 2016 Pioneer Family Lane, Jamescreek, Pa. 16657 (814) 658-CAMP or info@pioneerfamilycampground.com Privately owned, open all year round. Located on Rt. 26 South of Huntingdon, app. 12 miles. Sites with 50 amp. electric, cable TV, water and pump out service provided. Activities: Arcade, miniature golf, playground, horseshoes, volleyball, basketball, heated in ground pool, wooded walking trails, fishing pond, picnic pavilion. Free boat parking for campers. Minutes from Raystown Lake. NEW - Country Store with hot foods and ice cream.
Dufflane Cabin Rentals - Year-round cabin rentals, located in the heart of Huntingdon County, Pennsylvania's famous hunting and fishing paradise. (814) 448-2369 Mailing Address: 21749 Coles Valley Rd Robertsdale, PA 16674 E-mail dufflane@atlanticbb.net
Heritage Cove Resort - Marina/Campground (click on name to access website)
Located at the 'Gaetway to Raystown Lake' in Saxton, PA. Features" deluxe cabins with fireplace, queen sized beds, full bath & kitchen (linens provided). General store with laundry & snack bar. All campsites have electric, water & sewage hookups. Marina & day launch available. 814-635-3386
Mountain Water Chalets - (click on name to access website) Rte. 26, One mile south of Marklesburg Chalets with two, three and four bedrooms. All amenities. 814-239-2225
Lake Raystown Family Camping Resort (click on name to access website) (814) 643-3377 Pets Welcome!
Anglers, Antlers & Aquafun - Spend a week or weekend at beautiful Raystown Lake in a cabin nestled on a hillside one mile from Shy Beaver Boat Launch. Sleeps 6-8. A/C, TV, VCR, Dishwasher included. 717-684-8274.
Raystown Country Homes - Huntingdon (814) 643-1990 - E-mail: prkplace@penn.com
Trough Creek Cabins - (click on name to access website)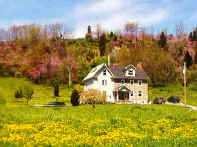 Cedar Hill Bed & Breakfast (pictured at right) (click on name to access website)
HC-01 Box 26, RTE 45, Spruce Creek, PA 16683
(888) 764-9790 - E-mail at cedarhill2@aol.com
Lanes Country Homestead, (click on name to access website) HCR~1 Box 54, Cassville,814-448-3351 Spend a week or a weekend in the country...live in an 18th century American home. E-mail: Lnshomestead@hcworkshop.com
Shy Beaver Lakeview Estates - (click on name to access website) RR1 Box 68B, James Creek, PA 16657 800-673-9211. A beautiful woodland community of contemporary cedar and log homes. Home sales and vacation rentals.
Lake Cottages, (click on name to access website) Hesston (814) 658-3824
Raystown Guest House - Howes-on-the-Hill - South Broad Street, Broad Top City, PA 16621 Phone: 814-635-3956 Contact: Alice Lemin, alicek@pennswoods.net
Spacious 11-room house only 20 minutes from Raystown Lake located on top of Broad Top Mountain. Fully furnished house with 5 bedrooms, and two 3rd-floor dormitory rooms. Sleeping space for 20-22 persons.
Bitter Goose Lodge - (click on name to access website) Cassville, 814-448-3384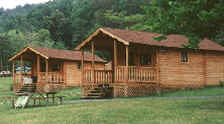 Raystown Resort Camping Cabins - (click on name to access website) Lake Raystown Resort & Lodge, 100 Chipmunk Crossing, Entriken, PA 16638 (814) 658-3500
Lay-Z Pine Lane Cabin, Hesston (717) 236-8115
Pleasant Hills Resort, Hesston (814) 658-3986
Aunt Susie's Country Vacations, Hesston (814) 658-3638 or 1-888-2-DA-LAKE - E-mail: vacation@auntsusies.com
Snyder's Run Cottage Rentals - One mile to Raystown Lake Access. Fully furnished, A/C, Dish TV, Tub & Shower, appliances, linens, picnic table, gas grill, gas fireplace. Cottage sleeps 4 and the two story house sleeps 8-10. Daily, weekend and weekly rates. Boat parking and camping sites availible. JSM Realty 800-633-1304.
Seven Points Vacation Rentals, Hesston (814) 658-3901
Shy Beaver RV Park, James Creek (814) 658-3096
Warrior Ridge Hideaway, Hesston (click on name to access website)
(888) 231-4829 - E-mail: hideaway@mindworks.net
Ripka's Cottages, (click on name to access website) at Lake Raystown, Huntingdon, PA (814) 643-4206
Raystown Lake Seven Points Lodge (click on name to access website) PO Box 78, Hesston, Pa 16647 (814) 658-2088

Canoe Creek, Modern Cabins: (click on name to access website) Eight modern cabins, sleep 6, modern showers/toilets and they overlook the lake. Pets are prohibited in all state park overnight areas.
Jenny Springs Cabin, (click on name to access website) R.D.#1 Box 136, Huntingdon (814) 627-5311 The cabin is completely furnished keeping the country/nature look, and has modern utilities and satellite TV. Located outside of Barree, 3 miles from Alexandria off Route 22, 11 miles from Huntingdon.
7 Points Rental - two miles from seven points recreation area. Newly constructed country house. 4 bedrooms and loft sleeps 10 comfortably. Large deck overlooking woods, rec room and Great Room with fireplace. Rates and Contact on website.