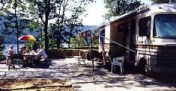 Hemlock Hideaway Campground, Box 189 B1, James Creek, PA 16657 Phone: (814) 658-3663 Pets allowed! Open Year Round hemlockhidecamp@earthlink.net
Pioneer Family Campground - 2016 Pioneer Family Lane, Jamescreek, Pa. 16657 (814) 658-CAMP or email to info@pioneerfamilycampground.com Privately owned, open all year round. Located on Rt. 26 South of Huntingdon, app. 12 miles. Sites with 50 amp. electric, cable TV, water and pump out service provided. Activities: Arcade, miniature golf, playground, horseshoes, volleyball, basketball, heated in ground pool, wooded walking trails, fishing pond, picnic pavilion. Free boat parking for campers. Minutes from Raystown Lake. NEW - Country Store with hot foods and ice cream.
Lake Raystown Resort and Lodge, Entriken
(814) 658-3500 pets are allowed in the campgrounds as long as they are kept on a 6' leash at all times.
Heritage Cove Resort - Marina/Campground
Located at the 'Gaetway to Raystown Lake' in Saxton, PA. Features" deluxe cabins with fireplace, queen sized beds, full bath & kitchen (linens provided). General store with laundry & snack bar. All campsites have electric, water & sewage hookups. Marina & day launch available. 814-635-3386.
Confirmed Recreation Fees for Seven Points Recreation Area at Raystown Lake. This includes: Susquehannock Campground pets allowed!, Seven Points Camp pets allowed!, Nancy's Camp pets allowed!, Seven Points Beach, Tatman Run Beach, National Recreation Reservation Service (to make reservations), Raystown Lake, U.S. Army Corps of Engineers, Hesston (814) 658-3405 Nancy's Camp Open Year Round
Lake Raytown Family Camping Resort (814) 643-3377
Lake Raystown Family Camping resort offers your family the perfect camping
vacation experience in beautiful Raystown Lake country. Located less than three miles off Rte. 26 and less than seven miles from the 7 Points Recreation Area at Raystown Lake.
Pleasant Hills Campground - Box 86, HESSTON, PA 16647 (814) 658-3986
Seasonals, permanent and overnight camping sites available. Swimming pool, miniature golf, and game room. 2 Miles from Seven Points Recreation Area. Pets Allowed.
Boyer's Campground, Hesston (814) 658-3901
Circle B Campground Route 26 South, RD #1, Box 74C James Creek, PA 16657 (814) 658-3702
Woodland Camping Resort, Hesston (814) 658-3017
Four Leaf Clover Campground, Saxton, (717) 838-4886
Jesus Ministries, Inc. - RD#1 58-B Shirleysburg (814) 447-5659
Newburg Campground - Rt. 994 Newburg (814) 448-3725
Camp Blue Diamond - Diamond Valley - (814) 667-2355
Camp Golden Pond - RD#1 Petersburg (814) 667-2598
Camp Mantowagan & Retreat Center - RD#1 Saxton (814) 658-3815
Greene Hills - Barre (814) 669-4212
Stone Valley Recreation Area MI Camp - Petersburg (814) 669-3792
Trail's Campground RD#1 Hesston (814) 658-3901
Christian Camping - at Greene Hills in Huntingdon County, Green Hills Recreational Vehicle Park, Box 3, Barree, PA 16611 (814) 669-4000
Buttonwood Campground -RR#3 Box 501 Mifflintown, PA. - (717)436-8334
Buttonwood Campground is located in one hour from Raystown on the Juniata River. Buttonwood would wake a fine rest stop for campers on their way to the lake. Please check us out.
---