Rockhill Trolley Museum, PO Box 203, Rockhill Furnace PA 17249 (814) 447 9576- Rockhill Trolley Museum is located in south central Pennsylvania, between Harrisburg and Altoona. We are next door to the fabulous narrow-gauge East Broad Top RR, and less than 1 hour from the railroad attractions of Altoona. Take a Ride, Info Request, Directions
Huntingdon County Covered Bridge St. Mary's Covered Bridge, On Route 522, near St. Mary's Catholic Church , Huntingdon, PA 16652
The Hunt Signal Tower, Huntingdon (814) 643-6308
For the rail buff, the location of one of the only surviving towers of this sort is located only 25 miles or so from Altoona, the Horseshoe Curve, and the railroader's Museum, and only 15 miles from the northern terminus of the East Broad Top RR. (We are 100 feet from the HBT and canal). Only 30 miles from State College and 30 miles from Lewistown. 15 miles from I-99, 21 miles from I-76, and there is an Amtrak station 200 yards away. Not too far off the beaten path!
Huntingdon County Heritage Committee, Huntingdon (814) 643-5091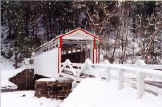 Bedford County Covered Bridges - (click for virtual tour) Bedford County is blessed with 14 covered bridges. Few places have covered bridges set in more picturesque settings and with more variety than in Bedford County, Pennsylvania. These structures were built approximately 100 years ago by craftsmen who worked almost entirely by hand, making structures that would withstand the rain, snow and hard use of the traveling public.

The East Broad Top Railroad and Coal Company P.O. Box 158, Rt. 994, Rockhill Furnace, PA 17249 (814) 447-3011 (pictured at right)

Altoona Railroaders Memorial Museum, 1300 Ninth Ave., Altoona, PA 16602 - Phone: 946-0834 Fax: 946-9457
New Museum Opens This Year As A Tribute To The Men And Women Of The Pennsylvania Railroad Who Built Altoona, The Greatest Railroad Community Of All Time
Fort Roberdeau Historic Site, RD 3 Box 391,, Altoona, PA 16601, (814) 946-0048
Reconstructed 1778 Fort In 45 Acre Park, Tours, Exhibits, Picnic Area, Nature
Trails And Museum Shop

Horseshoe Curve National Historic Landmark, Kittanning Point Rd, Altoona
Phone: 946-0834 Fax: 946-9457 Displays And Exhibits Detail This Engineering Marvel Opened By The PRR In 1854

Broad Top Area Coal Miners Historical Society - Robertsdale, Pa. 16674, Phone: (814) 635-4120 Explore the Broad Top Coal Mining History. Coal Mining and Railroad Exhibits. Museum open Friday-Sunday 9am-5pm. We can open most anytime for special visits or tours. Handicap accessible. Monthly Live Country Music shows August-May.
E-mail: ebtminer@nb.net