Wildwood Chalet
Wildwood Chalet is a gorgeous and fun vacation rental home. Minutes from Lake Raystown and Seven Points Marina. The Chalet is open year round and sleeps 11.
For more information call Pam at 814-571-8799,
Email: pam@wildlodge.net
Website: www.wildlodge.net

MissBessLazyDayz - Weekly/Daily Rental - pets are just fine with us.
814-658-0021or 814-386-6121. You can also email us at missbesslazydaz@yahoo.com
The Home will sleep 6 people. Sales and occupancy tax are not included in the daily rate.
Large Mountain Cabin Near Raystown Lake, Pennsylvania
Location: Three Springs, South Central PA, Pennsylvania, USA (20 miles from Exit 14 on Pennsylvania Turnpike) Cabin - 2 Bedrooms - See Below Baths (Sleeps 8-10)
Lakeside Rental - Closest Private Rentals to Water, Three 3-bedroom properties with Stone fireplaces. 814-641-LAKE
Mountain Water Chalets - Rte. 26, One mile south of Marklesburg Chalets with two, three and four bedrooms. All amenities. 814-239-2225
Raystown Guest House - Howes-on-the-Hill - South Broad Street, Broad Top City, PA 16621 Phone: 814-635-3956 Contact: Alice Lemin, alicek@pennswoods.net
Spacious 11-room house only 20 minutes from Raystown Lake located on top of Broad Top Mountain. Fully furnished house with 5 bedrooms, and two 3rd-floor dormitory rooms. Sleeping space for 20-22 persons.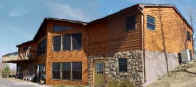 Giffith Brother's White-tail Ridge Vacation and Trophy Hunting Lodge, Inc., Huntingdon (814) 643-7181 The Griffith's spacious Lodge is located near Huntingdon, Pennsylvania, which was listed in Outdoor Life magazine as one of the top twenty towns in the United States where the sportsman can "do it all." It is also only 35 minutes from State College, Pa. home of Penn State University. wtrinfo@trophyclassdeer.com
Lanes Country Homestead, HCR~1 Box 54, Cassville,814-448-3351
Spend a week or a weekend in the country...live in an 18th century American home.
E-mail: Lnshomestead@hcworkshop.com

Trough Creek Lodge: This renovated two-story stone mansion is available for rental year-round. Originally constructed in the mid-1800s as an ironmaster's home, it has a modern eat-in-kitchen, two bathrooms, four bedrooms and central heat. The lodge has spacious porches, yard areas and sits atop a hill overlooking Paradise Furnace. The lodge is fully accessible for those with disabilities.
Entriken Lodge - situated off the intersection of Route 994 and Route 26. Great family getaway vacation and conveniently located for Penn State Games. (717) 244-3793 or e-mail at hdarrah@aol.com
Shy Beaver Lakeview Estates - RR1 Box 68B, James Creek, PA 16657 800-673-9211
A beautiful woodland community of contemporary cedar and log homes. Home sales and vacation rentals.
600 Washington, 600 Washington St., Huntingdon Pa (814) 627 5581 - Downtown Huntingdon, lodging rooms and one bedroom apartments furnished and unfurnished, long or short term, within walking distance of restaurants, Amtrac, banks, courthouse.
E-mail: dic@hcworkshop.com
Eagles Loft - Vacation Home Rental (click on name to access website)
Enjoy panoramic views of Raystown Lake and surrounding mountains. View spectacular sunrises and sunsets on the lake. Features" Fully furnished, Great room and dining room with large custom windows that overlook Raystown lake and mountains, 2 bedrooms and loft with queen sized and double beds, (2) full baths & kitchen (linens provided), finished basement with wood stove, TV, DVD, Stereo, AC, gas grill, and large deck overlooking lake". Quick access to lake (Shy Beaver Boat Launch Access). 610-698-9704.
Raystown Ranch House - Cozy country 3brm ranch home on 7 private acres. Conveniently located minutes from seven Points at Raystown Lake. Wake up to horses in the paddock, or call ahead to bring your own. Pet friendly. Year round rental. Reasonable rates. 814-627-2652