Fun Stuff To Do & Places To Go
in Raystown Country

Raystown lake and the surrounding areas offer so much for the traveler to do. You can indulge yourself in Raystown Lake history, our natural wonders, enjoy a day of golf, swimming at the lake and so much more. There really is something for everyone to do.

Try clicking on one of the links on the left and find out just how much we have available. If you cannot find what you are looking for you can use the search function we have included on the site, you can try the frequently asked question page or you can e-mail us your question and we will do our best on finding you the answer. Enjoy you stay at Raystown Lake.
Recreational
Vehicles
Mater's Recreational Vehicle Services, Alexandria, 814-669-4878

Application for Persons with Disabilities to Use Motorized Vehicles on State Forest Land
http://www.dcnr.state.pa.us/forestry/huntapp.htm
Biking
Keystone Biking - http://www.keystonebiking.com/

Pennsylvania Rails to Trails - http://www.dcnr.state.pa.us/rails/index.html
Take a Ride
Rockhill Trolley Museum, PO Box 203, Rockhill Furnace PA 17249 (814) 447 9576- Rockhill Trolley Museum is located in south central Pennsylvania, between Harrisburg and Altoona. We are next door to the fabulous narrow-gauge East Broad Top RR, and less than 1 hour from the railroad attractions of Altoona. Take a Ride, Info Request, Directions

Railroaders Memorial Museum , Horseshoe Curve, or (Horseshoe Curve) Altoona, PA Every week, close to 500 trains pass over the Horseshoe Curve. These trains are led by a combination of Conrail & Norfolk Southern locomotives and, occasionally, a "visiting" locomotive from another railroad. In addition, Amtrak passenger trains heading east from Chicago & west from New York City pass daily. This region boasts the most unique and impressive view of Pennsylvania's breathtaking fall foliage display. Directions, Click to request a visitor packet, Take a Ride
Golf Clubs & Courses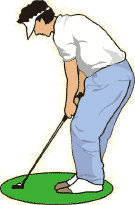 Standing Stone Golf Club, Stone Creek Road, Huntingdon (814) 643-4800 Located approximately 35 miles south of State College, PA on Route 26 and 20 miles from Lake Raystown. Standing Stone offers an enjoyable, challenging, and affordable golfing experience. Received 2 1/2 stars from "Golf Digest's" Places to Play.s
Down River Golf and Country Club, Everett (814) 652-5193
American Legion Country Club, RD #1, PO Box 57, Mt. Union, PA 17066 (814) 542-9087
Caves & Caving
Lincoln Caverns, Inc., Rt. 22, RR 1 Box 280, Huntingdon, PA 16652 (814)643-0268 (814)643-1358 Natural Attraction. One Hour Interpretive Tours Of Two Separate Caverns. Educational Programs Available
Penn's Cave, R.R. #2 Box 165A, Centre Hall, PA 16828, 814-364-1664 Fax: 814-364-1479 A one mile boat ride underground, 50 minutes in length. A 1 1/2 hour Farm, Wildlife, and Nature Tour. Airplane Rides
Indian Caverns, HC 1, Box 76, Spruce Creek, PA 16683 (814) 632-7578
PA's Largest Limestone Cavern. Authentic Indian History. Cavern Tours And Gift Shop
Alternative website: http://www.parec.com/parec/caves/indian.htm
Huntingdon County Cave Hunters, Inc. (Pennsylvania)
Chapter of the National Speleological Society
Shooting Clubs
Shenecoy Sportsmen Shooting Club
- Shenecoy Sportsmen-one of the premiere shooting clubs on the east coast offering skeet (16 fields), trap, 5-stand, archery, rifle & pistol on 285 scenic acres. Mailing address: Box 75, McConnellstown, PA 16660 Phone: 814-627-4003